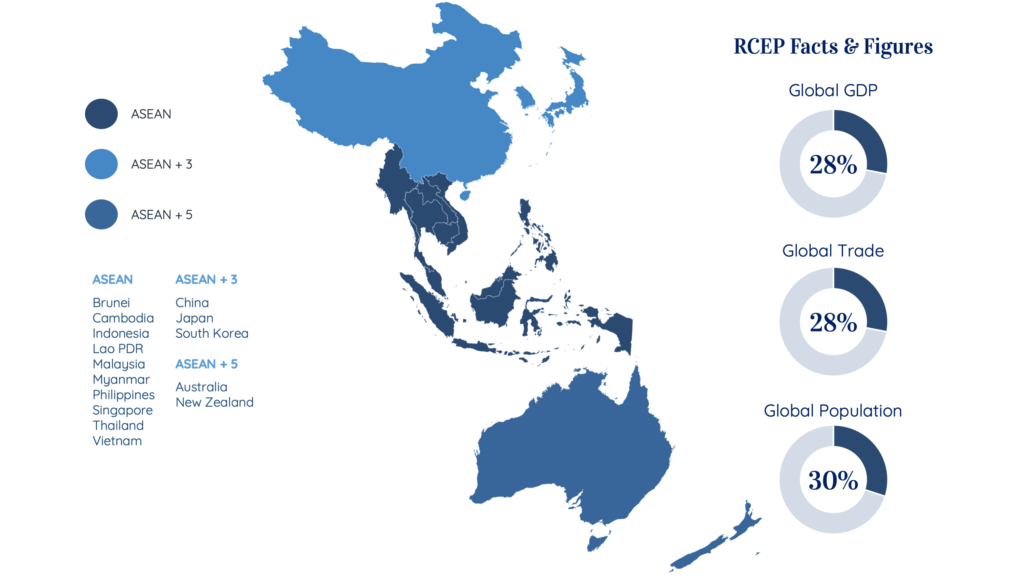 Next month, seven years of trade negotiations will culminate in the signing of the Regional Comprehensive Economic Partnership (RCEP) at the ASEAN summit in November 2020. With 15 signatories expected (excluding India), accounting for almost 30% of the world's GDP, the RCEP is poised to create the world's largest trading bloc. Its members will include all ten countries from the Association of Southeast Asian Nations (ASEAN) bloc and their major trading partners in the region—Australia, China, Japan, New Zealand, and South Korea. Although India helped initiate negotiations in 2012, it pulled out in November 2019 as negotiations concluded, citing concerns over trade imbalances and provisions related to e-commerce data storage.
The RCEP will establish a single goods and services trading market for the Asia-Pacific, representing a significant step forward for free trade in the region. The agreement aims to enhance economic partnerships throughout the region, facilitate regional investment and trade, and subsequently close the development gap among the economies of its member states. The document spans 20 chapters, which cover trade in goods and services, investment, economic and technical cooperation, intellectual property, e-commerce and digital trade, competition, government procurement, and dispute settlement, among other issues.
Investors in the region can expect greater trade opportunities due to an increase in goods eligible for tariff reductions, the liberalization of investment and services in member states, enhanced regulatory transparency and coordination, and reduced compliance costs due to improvements in customs procedures. For instance, as the RCEP looks to incentivize companies to build supply chains within the region, one important development will be the creation of common rules of origin for the entire trading bloc. Under the RCEP, a single certificate of origin may be used for every country, rather than companies having to navigate separate criteria for each country or step in the production process.
Due to the scale and diversity of the RCEP's coverage, its implementation may be unwieldy. Some of the trade facilitation reforms that the RCEP aims to realize have already substantively been achieved by ASEAN. The implementation of the ASEAN Economic Community (AEC) Blueprint 2015 has eliminated tariffs and facilitated trade within the region, advancing a liberalization agenda for goods, services and capital. Despite its achievements, many of the AEC Blueprint 2015 objectives, such as limited tax harmonization, have been postponed for a decade (if not indefinitely), which may serve as a forewarning for RCEP countries, where fiscal harmonization is out of the question. Less ambitiously than the AEC Blueprint, the RCEP aims at bolstering its member countries' balance of trade, FDI volumes, and, generally speaking, strengthening their geopolitical influence.