The BOI Thailand (Board of Investment Thailand) is the principal government agency for encouraging investment in Thailand by offering incentives to eligible companies.
The BOI aims to enhance competitiveness and facilitate investments by offering attractive packages of tax incentives, easing foreign equity restrictions on manufacturing activities and services and waiving restrictions on land ownership by foreign entities.
BOI Thailand promotes investments in specific activities and investment zones, granting both tax incentives and non-tax incentives, among them:
– Permission for foreign investors to own land
– Permission to operate under 100% foreign ownership
– Exemption from work permit and visa rules
– Exemption of import duty on machinery
– Corporate income tax exemption for up to 8 years
– Deduction of Transportation, Electricity and Water Costs
– Deduction of Project's Infrastructure Installation
– Exemption of import duty on raw or essential materials used in the manufacturing of export products for 5 years
– Permission for foreign technicians, experts and their spouse or dependents to work and stay in Thailand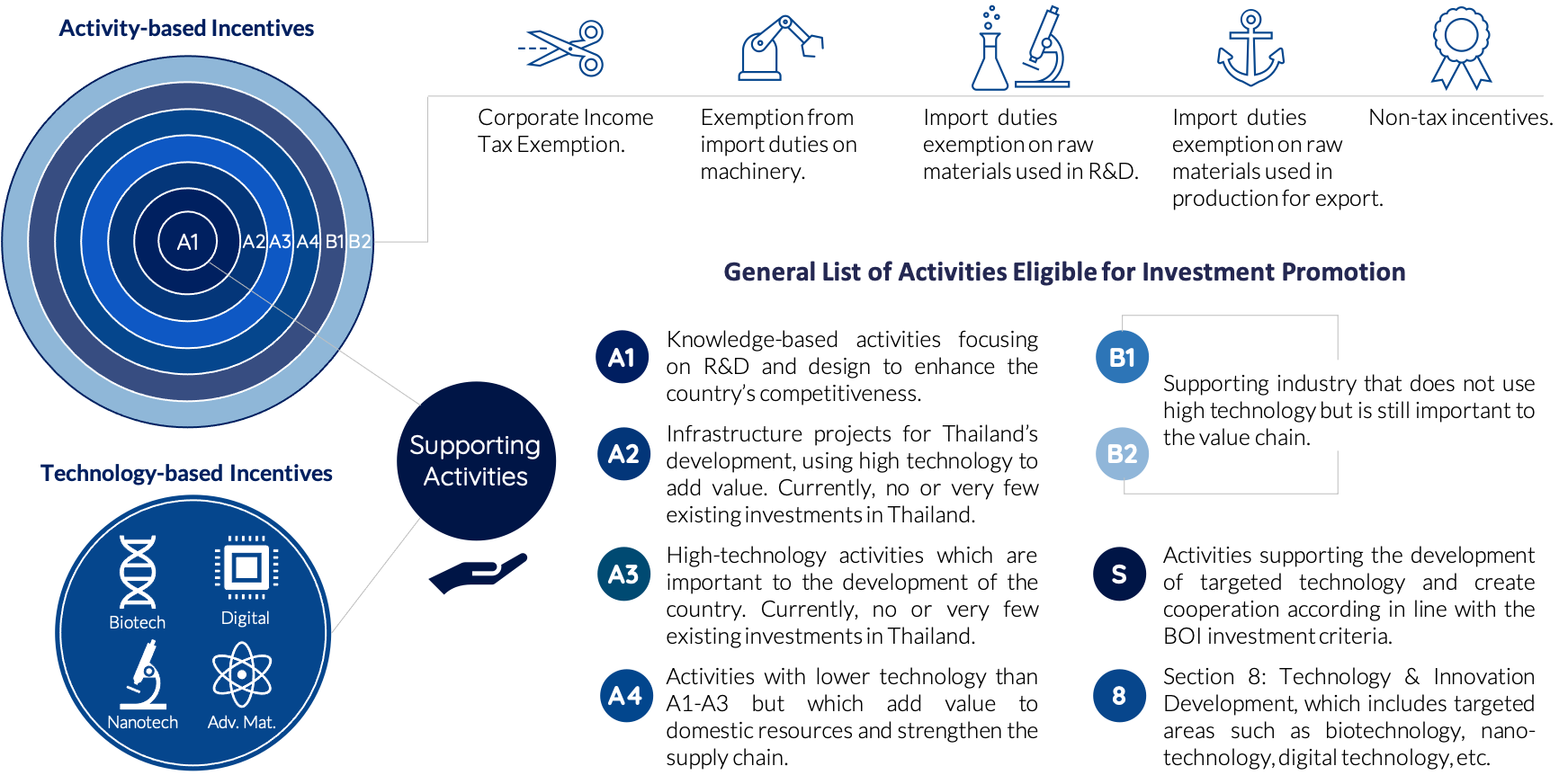 Eligible Activities
1. Activities on the list attached to this announcement are eligible for investment promotion.
List of Activities Eligible for Promotion
Section 1: Agriculture and Agricultural Products
Section 2: Mining, Ceramics and Basic Metals
Section 3: Light Industry
Section 4: Metal Products, Machinery and Transport Equipment
Section 5: Electronic Industry and Electric Appliances
Section 6: Chemicals, Paper and Plastics
Section 7: Services and Public Utilities
2. Conditions and rights and benefits of projects that receive investment promotion shall be specified for each activity.
3. The following activities are classified as activities of special importance and benefits to the country that will be granted corporate income tax exemption without being subject to a corporate income tax exemption cap:
Category 1.3 Economic forest plantations (except for Eucalyptus)
Category 3.9 Creative product design and development centers
Category 4.11.1 Manufacture of air frames, air frame parts and major aircraft appliances, e.g. engines, aircraft parts, propellers and avionics
Category 5.6 Electronic design
Category 5.7 Software
Category 7.1.1.1 Production of electricity or steam power from waste, or refuse-derived fuel
Category 7.8 Energy Service Company (ESCO)
Category 7.9.2 Industrial zones or technology industrial zones
Category 7.10 Cloud services
Category 7.11 Research and development
Category 7.12 Biotechnology
Category 7.13 Engineering design 3
Category 7.14 Scientific laboratories
Category 7.15 Calibration services
Category 7.19 Vocational training centers
Enquire now