On 11 October, the Thailand Board of Investment (BOI) approved incentives to encourage companies to accelerate their operations to keep up with the Industry 4.0 transformation.
The tax incentive package offers improved incentives to Industry 4.0 projects which require higher investments. This includes a 3-year corporate income tax (CIT) exemption which covers 100% of the investment into the Industry 4.0 upgrade. The National Science and Technology Development Agency (NSTDA) and the BOI are to collaborate on implementing this measure. The NSTDA's role will be to help assess and advise on companies' investment plans into the Industry 4.0 transformation and inform such companies on the requirements surrounding these investments.
The deadline for applications will be the end of 2022. Approved companies will have three years to fully implement their upgrade from the date of receipt of their BOI certificate. This measure supplements the existing measures about the adoption of automation systems and digital technology.
The Board also approved an extension of the existing special investment promotion measures for small and medium sized enterprises (SMEs) until the last business day of 2022 in an effort to strengthen SME presence in Thailand.
January – September 2021 investment applications
The first nine months of investment applications both from local and overseas investors amounted to 520.7 billion baht with 1,237 project applications. Over the twelve sectors, 605 applications were submitted, and the combined investment value was of 269.7 billion baht.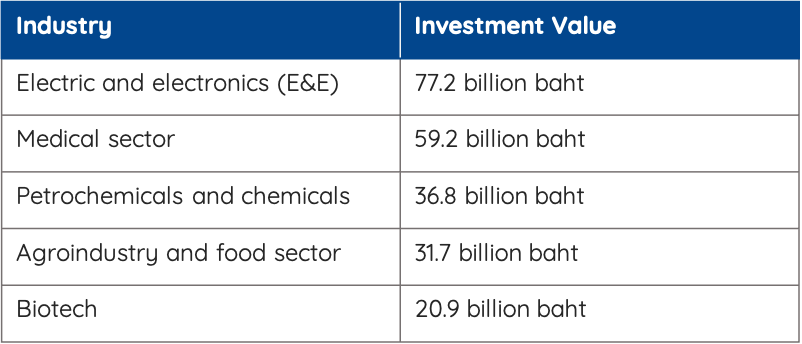 Table. Investment value per sector in January – September 2021
The combined value of foreign direct investment (FDI) was 372.1 billion THB and accounted for 46% of the total number of applications and for 71% of the combined investment value.