The Global Cosmetics Market was valued at USD 307.69 billion in 2020. With the Asia Pacific region estimated to be one of the largest and fastest growing regions for the cosmetics market, Thailand is ideally situated for future growth and expansion through the length of the supply chain, including:
✓   Engaging in cosmetic manufacturing;
✓   Co-developing products with local firms;
✓   Using Thailand as OEM hub; and
✓   Sourcing raw materials locally.
Thailand is primed to become ASEAN's beauty hub with a market forecast to be valued at over USD 7.3 billion in 2022 and regulatory harmonization with ASEAN through the AHCRS (ASEAN Harmonized Cosmetic Regulatory Scheme) increasing business potential throughout the length of the value chain.
Size of Market, Growth and International Presence
Thailand closed 2020 with a cosmetics market value of $6.8 billion representing almost 25% of the ASEAN countries' total sales of $27.7 billion, according to international market research firm, Euromonitor International.  This is no surprise as one of ASEAN's largest economies. Thailand has also outpaced the economic region's cosmetics market growth rate, ranging between 7.2-7.9% CAGR between 2014-2019, one of the fastest growing areas within the Thai FMCG sector, compared to ASEAN's 6%. Thailand's beauty market is also expected to grow an average 2% annually over the next two-year period. This claim can be backed by a 2020 HKTDC (Hong Kong Trade Development Council) survey that found 81% of participants will spend the same or more on cosmetics.
Thailand has already established itself as a beauty hub of innovation and quality, being one of the main beauty suppliers in China, Japan, and South Korea. Singapore, Malaysia, and Indonesia were also the 3 largest export markets for Thai skincare products with multi-national corporations performing particularly well due to reputation and consumer trust in international quality. Nevertheless, local "Made in Thailand" beauty products were favoured over domestic products in other ASEAN countries like Cambodia, Laos, and Myanmar due to perceived higher quality.
Consumer Profiles
Of Thailand's $6.3 billion market in 2018, the largest sub-sectors consisted of skincare valued at $2.4 billion, haircare at $0.9 billion and colour cosmetics at $0.7 billion.

Figure 1. Thailand's Cosmetics Market in 2018 (in U.S. Billions).
As the largest sub-sector, skincare is estimated to increase to $4.36 billion by 2027, according to Allied Market Research. This can be attributed to the rising middle class that has a strong appetite for fresh new beauty products. Coupled with the aging population of Thailand, currently at 10% and forecast to reach 20% by 2031, the focus on skin and anti-aging products cannot be ignored.  Previously, consumers' focus of skincare has gravitated towards skin whiteners, however, attitudes are starting to shift due to the knowledge of harmful ingredients towards natural and organic skincare products, which can command higher prices in the premium and specialty segments. This shift can be seen in the predicted growth rates in sun care products for 2022 at 11.2%, the highest growth sub-sector.
Trends have shown that consumers trust multi-national corporation brands for haircare compared to skincare. This can be attributed to attitudes towards hair products viewed as a daily product compared to skincare products viewed as a beauty product. As a result, consumers will readily try new skin products and will happily switch brands compared to new hair products providing opportunities for new skincare brands to the market.
Nevertheless, the "cosmeceutical" space has shown interesting demand especially in haircare. Although higher in price, the rise in disposable income has put it in the reach of middle Thailand. Thailand also has higher awareness of trends for hair loss. The combination has created greater demand.
Men's grooming is also a growing area in Thailand due to increasing social acceptance, especially in skincare (including facial cleansers and moisturisers) and haircare in urban areas. The International Trade Administration notes that this will continue to drive trends over the next few years.
Supermarkets and specialty stores have long been, and still forecast to be, the largest distribution channel considering pre-COVID tourist entry into Thailand had approximately 40 million visitors per year, however, COVID restrictions forced consumers to consider other means of getting access to products. Many customers used the internet for the first time and online sales is forecast to be the fastest growing sales channel at 10.2% CAGR.
Risks and Barriers
Foreign entities considering setting up in Thailand need to be aware of the risks and barriers of entry to the Thai cosmetics market.
Thailand has one of the highest monthly labour costs in the ASEAN community, joint with Malaysia at THB 331 per day, although with many MNCs using Thailand as a manufacturing base, it is hard to ignore the transportation, infrastructure and geographic location benefits of cosmetics production that may offset this cost. Furthermore, there has been a concerted effort from the government to provide support in cosmetics manufacturing in previous years, for example, the Food and Drug Administration (FDA) have provided training sessions to SMEs on Good Manufacturing Processes (GMP) and the Ministry of Agriculture and Cooperatives providing grants for SME investment into technology, most of which have been marketed via the Thai Cosmetics Associations.
The method of product distribution could also be a potential barrier to entry as methods like distribution through supermarkets and local convenience stores has great potential to increase sales, however, this is an expensive method.
Barriers include requiring specific standards to be met for exporting to certain countries. Although Thailand has joined the AHCRS, countries still require certification for products to be exported to their country, for example, Indonesia and Vietnam both require Good Manufacturing Processes (GMP) certification as well a certificate of analysis (COA) for cosmetics. Indonesia has recently also instated a Halal certification mandate. Entities should be aware of the export certifications required depending on the target country.
Cosmetics manufacturers and importers are required to get Food and Drug Administration (FDA) licenses from the Cosmetics Control Division, prior to importing or manufacturing. The FDA provide guidance on labelling requirements as well as prohibited and restricted substances lists. They are also the body that provide GMP and COA certificates, however, these are not required to attain manufacturing and importing licenses.
An inherent barrier is the complex customs laws. Thailand does not fulfil the standards established by "the Kyoto Convention". The penalties for undervaluing imports into Thailand can be severe. To add, import/export licenses are required to legally trade in Thailand.
COVID Impacts
Thailand suffered a -0.9% loss of market value between 2019-2020. This can be attributed to a multitude of factors that include multiple lockdowns as well as tourism being at an all-time low. Significant demand is driven by tourists using Thailand as a shopping hub to take cosmetics home. However, as with previous market downturns in Thailand, the cosmetics market has shown marked resilience due to the strength of e-commerce and social media. It has forced marketers to be innovative, adjusting their mix to non-store retailing.
Nevertheless, according to Allied Market Research, supermarket, hypermarkets, and specialty retail stores are still going to be the largest channels for sales in the next few years, which shows confidence in the tourist footfall post-pandemic.
Opportunities
Thailand has an overwhelming plethora of opportunities for entities to get involved in the cosmetics markets.
Thailand is considered one of the developing nations driving growth in the cosmetics industry across APAC region, according to Euromonitor, and the de facto top original equipment manufacturer in the region for international cosmetic brands according to the Federation of Thai Industries.
Although Thailand has had a history of political disturbances, a stable government now exists with a Board of Investment that regularly posts investment incentives for companies to exploit, for example, corporate income tax reduced by up to 100% for 3 years for improved efficiency in R&D (conditions apply).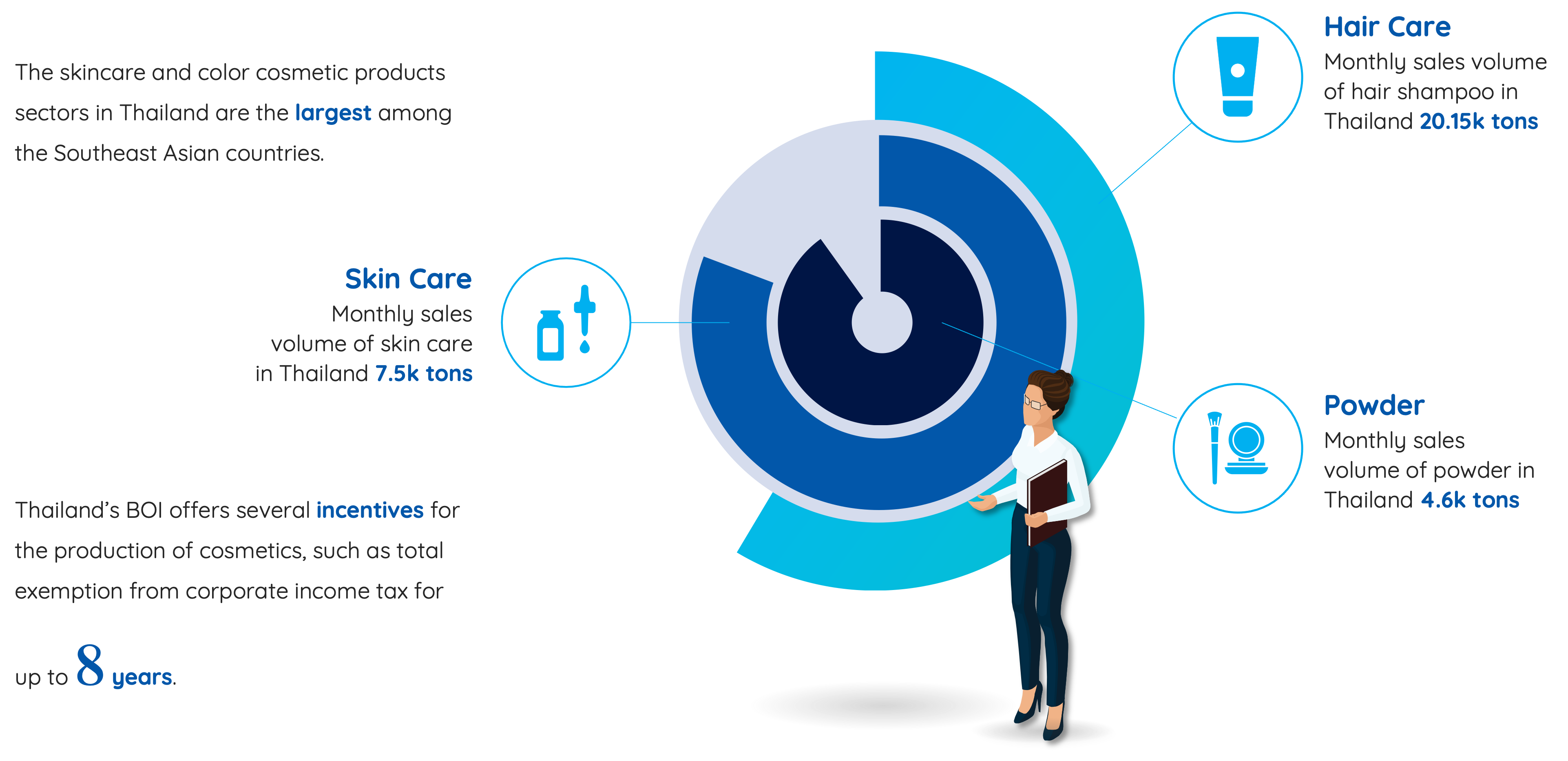 Figure 2. Thailand's Cosmetics Industry in 2021 and current investment incentives.
The geographical location and membership to the ASEAN community means that entities are still able to trade with less politically stable nations like Myanmar where there is still expected growth of the cosmetics industry by 9.4%.
Demand for premium and high-end luxury items makes up a 28% of the Thai market in terms of revenue; an area that the growing middle class has access to. This is an area that benefits from R&D to present new products to the market. An upcoming product line would include CBD based beauty products. The Thai Government has begun the legalisation of local cannabis plant growth (still heavily regulated crops with less than 0.2% THC) at a time when there is global estimated growth of $2.22 billions of CBD infused cosmetics between 2020-2024. Combined with the resilient "cosmeceutical" sub-sector and their perceived benefits, Thailand has the potential to be a vanguard in this space.
Thai cosmetics and products for the service sector could be another market to exploit. Similar to the MLC nations, products designed for wellness spas and massage centers are perceived to be of high quality and accepted in extra-ASEAN markets.
The Thai Government also has the Eastern Economic Corridor initiative that has named affluent medical and wellness tourism as a specific development area, providing foreign entities access to build businesses in Thailand without the same procedures as launching a normal company or the same visa requirements (i.e., SMART Visa).
Over the last decade, Thailand has been positioning itself as a cosmetic powerhouse through its geographical location, its government direction, its transnational affiliations and through its reputation in the market. With the cosmetics market poised to continue its growth through the pandemic, many opportunities lie ready for exploiting. That is not to say that there are not risks and barriers to consider, especially navigating what can be a tricky regulatory environment.
For inquiries about the establishment of a cosmetics business, investment incentives, and license applications, please contact us at info@mahanakornpartners.com.