For a second time, Mahanakorn Partners Group Chairman Luca Bernardinetti was requested by The New York Times to provide his insights on the state of the Thai property market. Journalist Alison Gregor reached out to Mr. Bernardinetti on the basis of his valuable contributions to a previous Times article on Thai real estate that ran in November 2018. Excerpts from Mr. Bernardinetti's latest discussion with the Times, published on 17 March 2021, can be read here.
In response to the Times' queries regarding the effect of COVID-19 on the property market, Mr. Bernardinetti observed that the pandemic had a substantial impact on the real estate market in Thailand, with clear signs of recession evident in the first half of 2020. Although Thai residential property sales prices tend to be inelastic (they do not change significantly when supply outstrips demand), rental fees dropped considerably in 2020. The same, he noted, goes for commercial and industrial properties, although lease prices are more resilient in prime locations, where no significant change occurred. If the market continues to stagnate, it may prompt individual and corporate investors to divest. Subsequently, this will present attractive investment opportunities for investors who are able to weather the stagnation in the medium to long term. Distressed assets, including hotels and resorts, also present cash-rich investors with lucrative opportunities that will turn a profit in the future.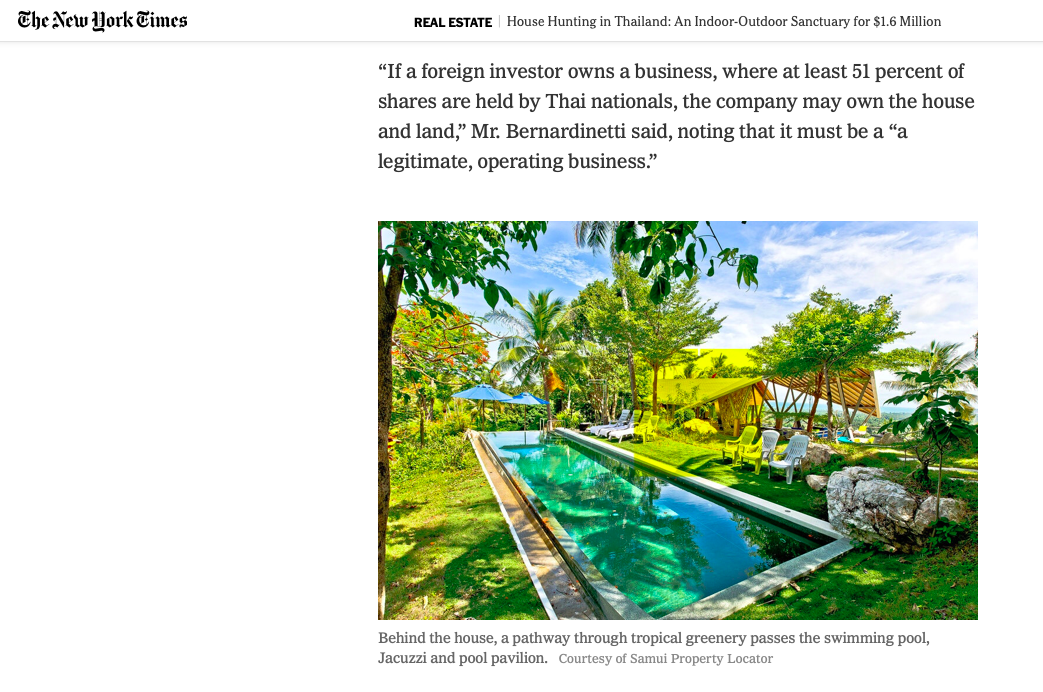 The Times also requested Mr. Bernardinetti to provide his insight into restrictions on foreign ownership of land and property in Thailand. Under Thai law, foreigners can own buildings, including condominiums, but not land in their own name. A common arrangement is to buy a house with a 30-year land lease from a Thai resident. In the case of condominiums, foreign ownership is limited to 49% of a building's total floor space. Another option for foreign buyers is to set up a private limited company with mixed Thai and foreign ownership, as private limited companies may hold land in Thailand. If a foreign investor owns a legitimate, operating business, where at least 51% of shares are held by Thai nationals, the company may own the house and land. Moreover, banks will finance a home purchase under certain conditions when done under a company's name—namely, if at least 51% of the company's shares are held by Thai nationals, and the company has a Thai director who will act as the mortgage guarantor.
Thailand is an attractive destination for vacationers and property investors alike, Mr. Bernardinetti told the Times. Foreign home buyers come from everywhere in the world; most of them are from Asia Pacific, Europe and North America. Investors from China and Hong Kong, as well as Singapore, the US and Japan, are particularly active investors in Thailand.
Finally, the Times asked for Mr. Bernardinetti's insights on the future of the Thai property market. Despite the negative impact of the pandemic and the dwindling tourism industry on the Thai property market, Mr. Bernardinetti noted that Thailand has shown a proclivity to respond to the pandemic swiftly and effectively—a positive sign for the future.