Sustainability approaches have moved beyond sporadic corporate philanthropy to become the core of operating models and business strategies. Nonetheless, in these times of high uncertainty, where global-scale threats such as COVID-19 have immediate local ramifications, urgent actions may be needed to support the communities of which we are a part. Individuals and companies alike have many different opportunities to demonstrate their responsibility towards their staff, their customers and clients, and the broader communities in which they live and operate. The correlation between a demonstrated commitment to sustainability and brand value is increasingly evident in all business sectors.
The World Health Organization has issued a range of advice that impact businesses, including for example, guidelines relating to workplaces and protecting employee health, and encouraging remote working. In addition to exploring solutions to address the health and other impacts of COVID-19, businesses can also mitigate the impact of this pandemic by modifying their operations, and by providing financial and other types of support where it is needed. The World Business Council for Sustainable Development (WBCSD) has underscored the interdependence of social stability and economic stability and has highlighted the ways in which businesses are responding to COVID-19.
Business sustainability strategies recognise the contribution, interdependence and dynamics of social and environmental systems and interactions on operations, products and services. Corporate sustainability approaches can contribute to leveraging competitive advantages, identifying and mitigating risks, stimulating innovation, improving sales, boosting brand recognition and loyalty, developing more resilient supply chains, fostering employee engagement and improving investment opportunities. All these business benefits come alongside demonstrable benefits to society and local communities, as well as the protection of the natural environment on which we (and future generations) depend.
COVID-19 has put in sharp relief the risks and vulnerabilities in supply chains. Stakeholder relationships are being re-examined. Renewed emphasis is placed on closer collaboration between businesses and government. Another critical issue to managers at this time is the fair treatment and well-being of staff. Supporting employees to adjust to new circumstances fosters trust in the company that will last well beyond the current crisis.
Business sustainability principles point us to the many different ways that our companies, no matter what size, can be responsible to those impacted by our presence. We are also reminded that the impacts of our activities and operations are ultimately as important as the operations themselves.
Thailand-based consulting firm Mahanakorn Partners Group (MPG) values its staff, clients and community. On Sunday, 26 April 2020, in collaboration and coordination with local government units, districts and provinces, MPG distributed cash handouts as well as several tons of rice, noodles, canned fish and other foodstuffs to Thai families economically affected by COVID-19. Food packages were also targeted at healthcare foundations, healthcare operators and social workers.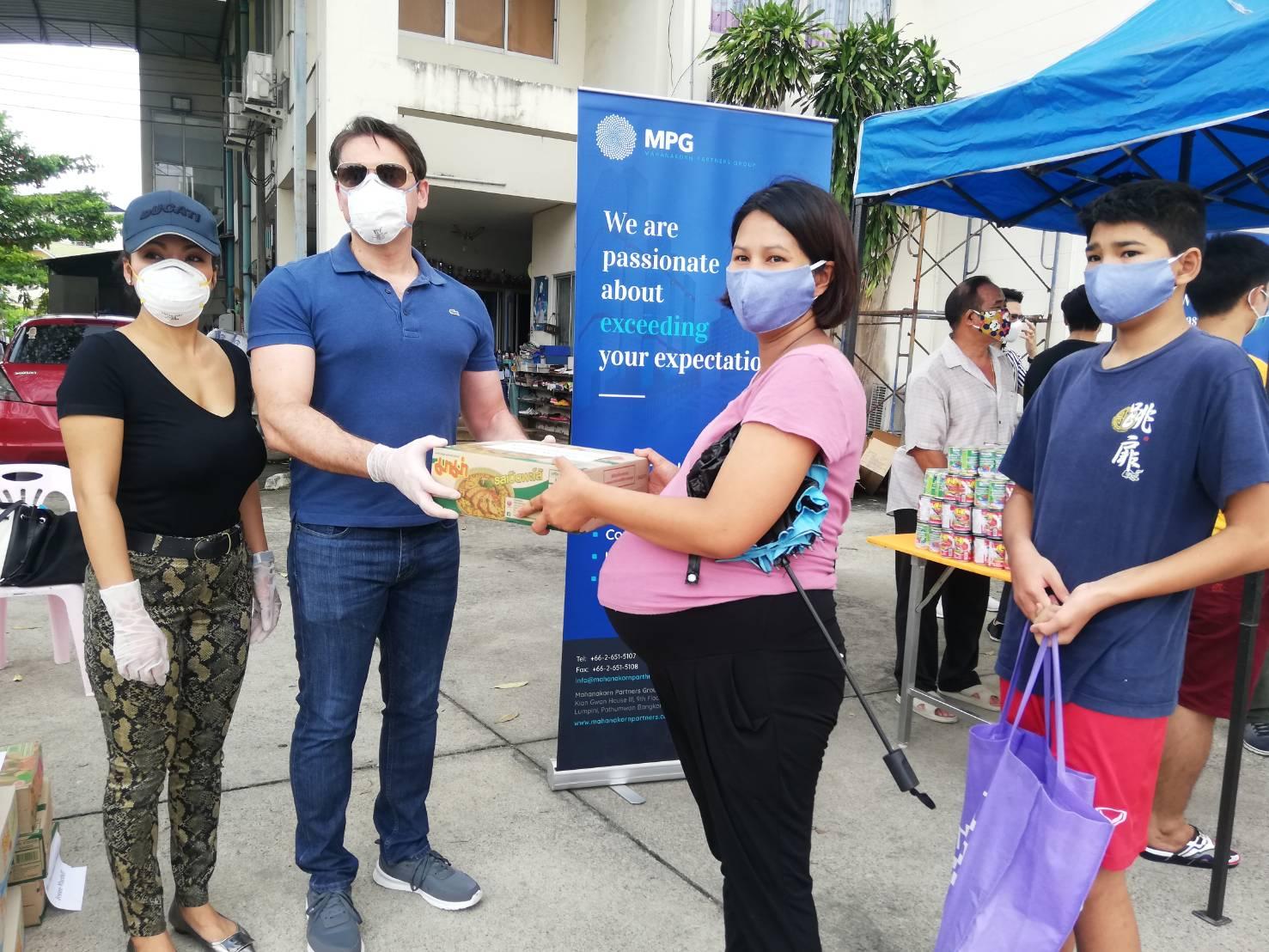 Pictured: MPG Managing Partners Vilasinee Thephasadin Na Ayuthaya and Luca Bernardinetti
Ambra Gobena
Business Sustainability Lead, MPG.
For more information on MPG advisory services relating to business sustainability, contact info@mahanakornpartners.com