Located in the heart of the APAC region and party to numerous trade agreements, it should be no surprise that Thailand and Indonesia have grown into the two largest economies in Southeast Asia. Companies looking to expand within the region would do well to choose these two emerging markets, with their strong exports, modern infrastructure, and skilled and diversified workforces.
In recent years, both countries have made efforts to attract foreign direct investment and increase the ease of doing business. Thailand achieved 21st place in the World Bank Group's 2020 Doing Business Report, while Indonesia prepares to rise in the ranks with the enactment of the Omnibus Law.
In this webinar, Vistra and MPG will provide an overview of relevant FDI incentives and recent regulatory developments in Thailand and Indonesia. Topics include the Omnibus Law, the current business landscape, and the future trajectory of these two markets.

Date: March 17, 2021 (Wednesday)
Time: 16.00 PM – 17.00 PM (Indochina Time)
Cost: FREE OF CHARGE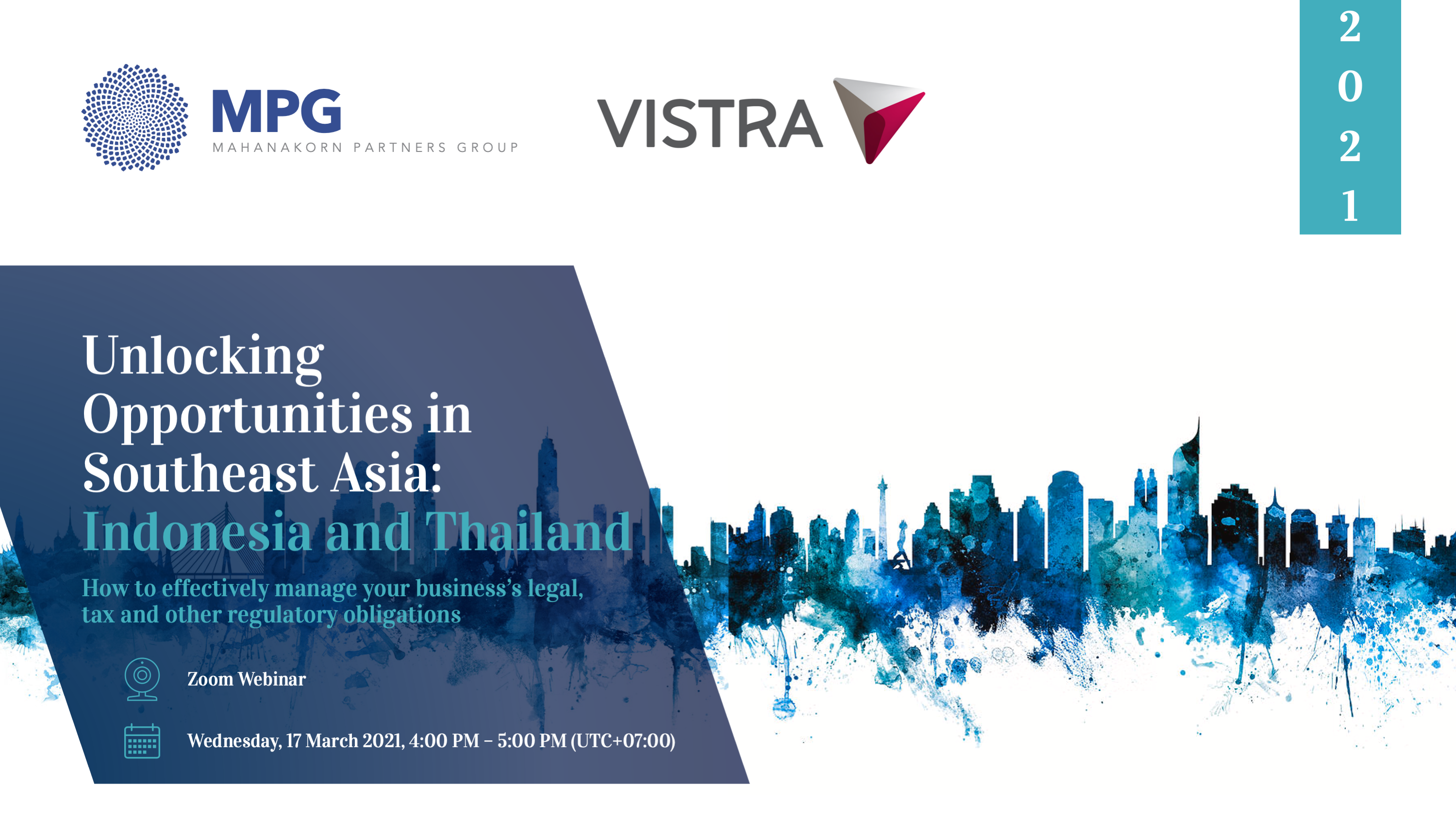 AGENDA
16:00 – 16:05 (ICT)       Welcome remarks (Vistra and MPG)
16:05 – 16:25 (ICT)       Updates on Business in Indonesia: The Omnibus Law (Vistra)
16:25 – 16:45 (ICT)       Updates and Overview of Business in Thailand (MPG)
16:45 – 17:00 (ICT)       Q&A session (Vistra and MPG)
ABOUT MPG
The Mahanakorn Partners Group (MPG) is a leading professional services firm that serves as a One-Stop Platform to assist any company or individual with a wide-range of Legal, Accounting, Auditing, Tax Advisory, and Management Consulting services. Founded in Thailand over twenty years ago, today MPG comprises five corporate divisions, staffed by lawyers, chartered accountants, auditors and international management consultants. Headquartered in Bangkok, with an ASEAN presence and a global footprint, MPG has received many accolades over the years and is consistently one of the most recommended professional services firms by Embassies and Chambers of Commerce in Thailand.
ABOUT VISTRA
Ranked among the top four corporate service providers globally, Vistra is a versatile group of professionals, providing a uniquely broad range of services and solutions. Our capabilities span across international incorporations to trust, fiduciary, private wealth services, and fund administration services. Vistra Indonesia is located in Jakarta. Managed by an international and local team of consultants, Vistra Indonesia provides a One-Stop-Service solution on services related to business (license) advisory, incorporation, accounting, tax, pay-roll, expatriate services, and more, enabling clients to focus on their core business. As a leading global player with expert industry knowledge in each jurisdiction, Vistra has a deep understanding of the professional worlds of our clients, providing the people, processes, and products that help our clients get the most from their international business and personal wealth. Both our local, regional and global footprint, enables us to serve you anywhere, with competitive (local) fees. We have offices in more than 46 countries and over 4,600 professionals working to provide solutions for business in every industry.